About Tampere
Tampere is the third largest city in Finland and the largest inland centre in the Nordic countries. Tampere is home to 225,150 inhabitants and close to half a million people live in the Tampere Region, which comprises Tampere and its neighbouring municipalities. Tampere is one of the three most rapidly developing regions in Finland. It is a centre for leading-edge technology, research, education, culture, sports and business.
It is estimated that waterfall in Finland will increase by 25% in the coming years due to climate change. A critical issue for Tampere is therefore flooding and storm water management. As two of the nature-based solutions demonstration areas in Tampere are under construction to become dense urban areas, the rapid population growth will also pose a significant challenge. Other challenges that the city is facing include water pollution and reduced biodiversity.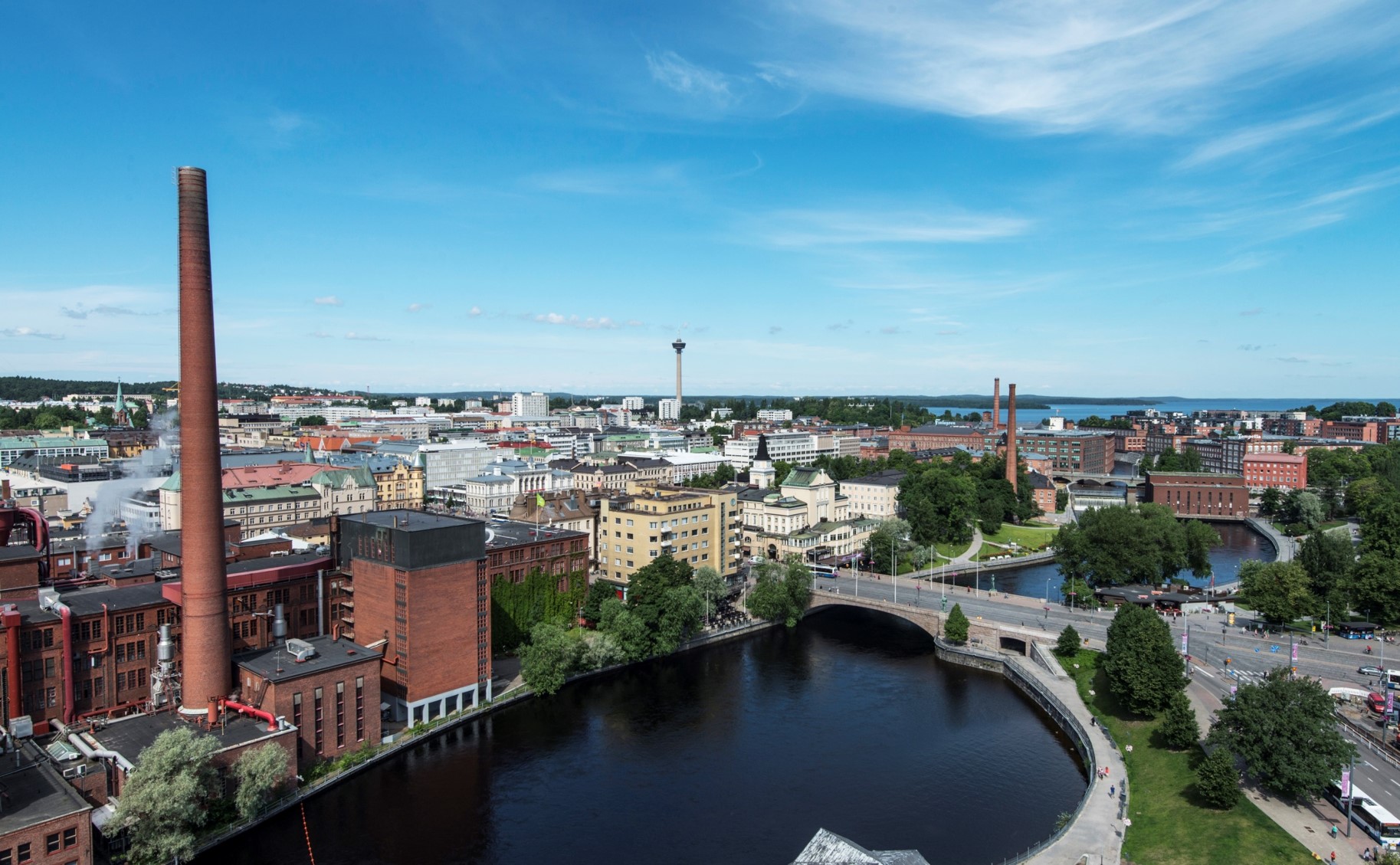 Tampere's NBS demonstrations
Tampere's main demonstration site for nature-based solutions is Vuores. Vuores is a new greenfield district surrounded by natural water bodies, which currently is in the construction phase. The first residents moved to Vuores in 2010 and there are currently 3000 inhabitants living in the district. Intensive construction is still ongoing and it is planned that Vuores will be completed by 2030, with residences for 13,000 people and 3000 to 5000 jobs.
Vuores consists of existing and developing residential blocks located around multifunctional parks. The Vuores stormwater management system is one of the largest in the Nordic countries and the northernmost in the world. The heart of the Vuores nature-based stormwater management system is the Central Park, where retention ponds, swales, wetlands, and streams retain and purify the water before leading it to Lake Koipijärvi. The nature-based water management system already starts from plots where, e.g. green roofs, rain gardens and rainwater harvesting, serve both for water management as well as for recreation. One of the initial NBS demonstration ideas of the city included the further development of the Vuores nature-based stormwater management system. Nature-based stormwater structures - a retention pond and alluvial meadows - were implemented in the Tervaslampi Park to complement the existing blue and green infrastructure in the area. A biofilter was one of the first UNaLab NBS demonstrations in Vuores and was built in Park Virolainen to treat stormwater from nearby residential blocks and streets. 
Innovative, co-created nature-based solutions systems demonstrated in Vuores will be scaled up and further developed in the brownfield area Hiedanranta. Hiedanranta is a former industrial area slated for development into a dense city district for 25,000 inhabitants and more than 10,000 jobs. Currently, Hiedanranta is open for people to enjoy and organise cultural- and art events and other innovations.
The first UNaLab NBS demonstration in Hiedanranta was a pilot-scale algae-based water treatment system where researchers from the Tampere University of Technology study micro-algae growth in Nordic conditions. A biofilter has also been installed in Hiedanranta to treat the contaminated water from an old pulp mill. Online water monitoring devices have been installed to monitor the performance of the biofilters in the urban living labs and the results can be accessed online. Tampere has also implemented a green wall on a wastewater pumping station in the Viinikanlahti district, with local species suitable for a sub-arctic climate.
The city has also awarded three innovation vouchers for citizens to undertake small-scale NBS projects. Two of the vouchers were used to develop urban garden areas near residential housing while the third voucher funded the creation of a community horse park in the Vuores Central Park.
Our Nature-based Solutions
Our Nature-based Solutions