Retention pond
The retention pond in Vuores enables the treatment (retention and sedimentation) of urban runoff from the new housing estate around Tervaslampi Park. It complements the existing measures in the Vuores area for enhanced stormwater quality and quantity management. The nature-based solution is equipped with a sign explaining the solution and its functions.
TECHNICAL SPECIFICATIONS
The water area of the retention pond varies between approximately 150 m2 to 690 m2 depending on the water level. It receives stormwater from a newly built housing estate through a stormwater pipeline. The pond has been constructed on a formerly marshy area, which was partially filled with crushed rocks by building an embankment out of moraine. Water exits the pond by infiltration and filtration through the moraine embankment. The pond has a stone covered overflow route over the embankment in case of heavy storm events.
The normal water elevation in the pond is +121,3 and maximum flood elevation is +121,8. The normal water level is maintained through high ground water levels in the remaining marshy area. The retention pond is surrounded by alluvial meadows, which are covered by water during rain events.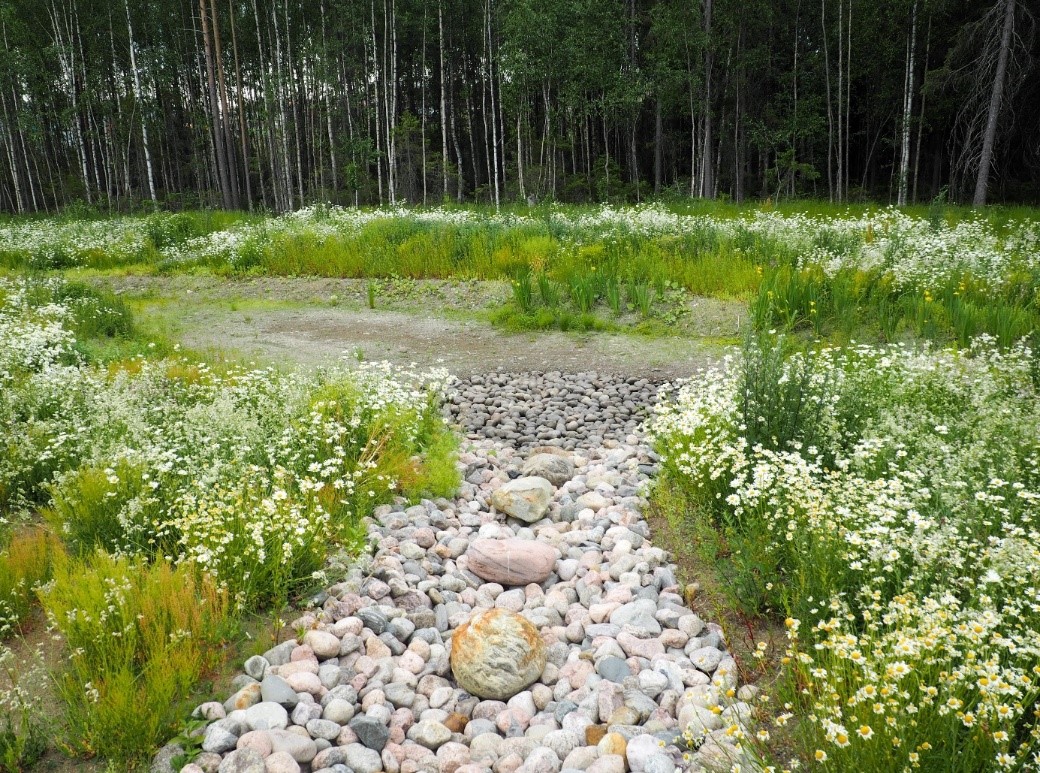 Potential for replication and upscaling
Retention ponds can be implemented in urban areas for the improvement of water quality and prevention of floods. They also enable the reuse of storm water for irrigation. When complemented with a sand filter, the ponds can effectively treat runoff from construction sites - a typical solution used in construction sites in Tampere. However, in some cases the ponds have been too small as retention ponds need enough space for effective sedimentation. In Tampere, retention ponds are being replicated to new residential areas, but are designed to have a lower permanent water level.
Facebook
Twitter
Linkedin
Email