Pilot-scale micro algae system
A pilot-scale wastewater treatment system, where micro algae is grown in source separated and diluted human urine, was implemented in Hiedanranta. The focus of this nature-based solution is on nutrient removal and recovery, energy recovery potential, as well as to study the performance in sub-arctic conditions.
TECHNICAL SPECIFICATIONS
The study consisted of two pilot raceway ponds (RWP) with working volumes of 400 litres and 2000 litres. The human urine for the experiments was collected with source separating toilets in Hiedanranta and was afterwards stored in containers for at least six months before it was used in the RWPs. In the 400 litre raceway pond, the algae were cultured in batch mode with diluted (1:20 water) human urine and the harvested algae was used to inoculate the 2000 litre pilot raceway pond. After growth of inoculum for the larger pond, the smaller raceway pond was used to determine the maximum growth of micro algae (Scenedesmus acuminatus). In the 2000 litre raceway pond, diluted human urine (with 1:20 and 1:15 dilutions) was used as the culture media for growing S. acuminatus at a hydraulic retention time (HRT) of 14 d. Algal biomass was harvested from the pond twice a week and replaced with diluted human urine. The growth of the micro algae in the pilot ponds was monitored by measuring optical density (OD), total (TSS) and volatile suspended solid (VSS). In addition, the soluble ammonium nitrogen and total phosphorous were analysed from the ponds upon feeding.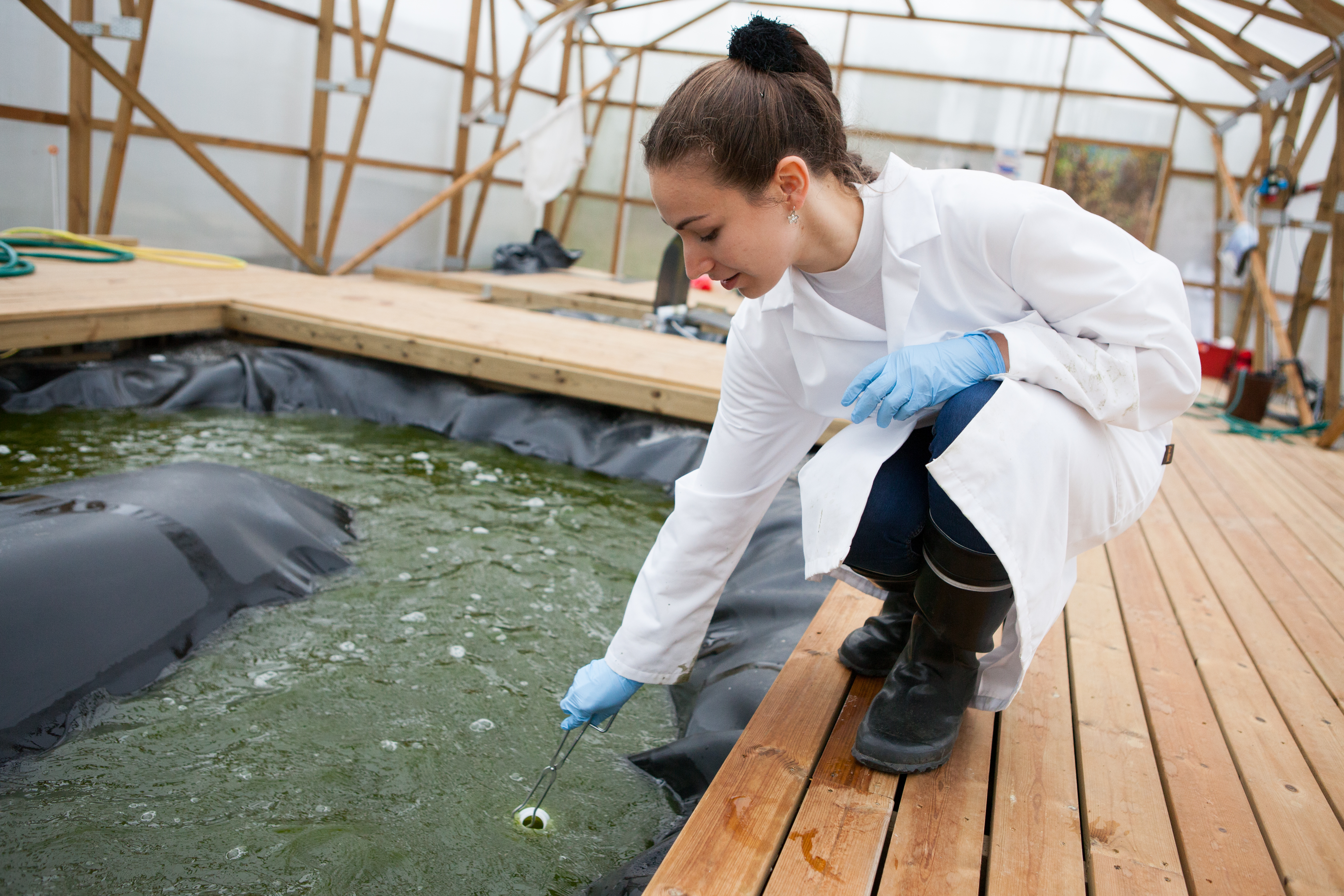 Potential for replication and upscaling
Cultivation of algal species in source separated urine is a promising approach for recovering nutrients from real waste streams and for producing biomass with cheap nutrient supply (e.g. for biogas and bioethanol production or as aquaculture feed). Enhanced biomass concentrations are required to improve the nutrient recovery from source separated human urine. In this demonstration, the source separated human urine was diluted with tap water for practical reasons but in the future, the dilution could be done with local storm waters, which would broaden the storm water utilisation options. However, if future studies on semi-continuous or continuous cultivation systems show that less urine dilutions is needed, then the need for storm water will be lower.
Challenges Tackled
Knowledge and social capacity building
Facebook
Twitter
Linkedin
Email