Green wall
A green wall has been built on an old wastewater treatment plant in the Viinikanlahti district. The wall is located along an important ecological corridor in the city and is one of the elements supporting the biodiversity of that corridor. The wall vegetation has been selected from local species to create living habitats for pollinator insects and the city will monitor the pollinators on site. The carbon storage and water management capacity of the green wall will also be monitored. The green wall also has an aesthetic value and as a popular walking and bicycle route passes by the wall, the city hopes that the diverse wall will help improving the wellbeing of city dwellers who pass by or live in the dense area. 
TECHNICAL SPECIFICATIONS
The green wall is designed to be 8m x 8m. The structure is made of steel and consists of four vertical pillars with 64 plant boxes measuring 1m x 1m in between. The plant boxes are 15cm deep and the vegetation has been implemented in two different ways: 1) forest peat and plants from a new city district construction site, and 2) planted boxes. In the planted boxes, the first layer consists of rock wool, which has been topped with soil, linen fibre, water retention granules, and plants or mor. The wall plants are made up of local species that live on top of rocks and that survive in cold conditions. On top of each box is steel net. The boxes with plants were left to grow in a horizontal position during the summer, and were afterwards installed to the wall. Rainwater will be harvested from the roof of the pumping station and used for irrigating the wall. The metal plant boxes are designed to allow the irrigation water to drain from one box to the next one.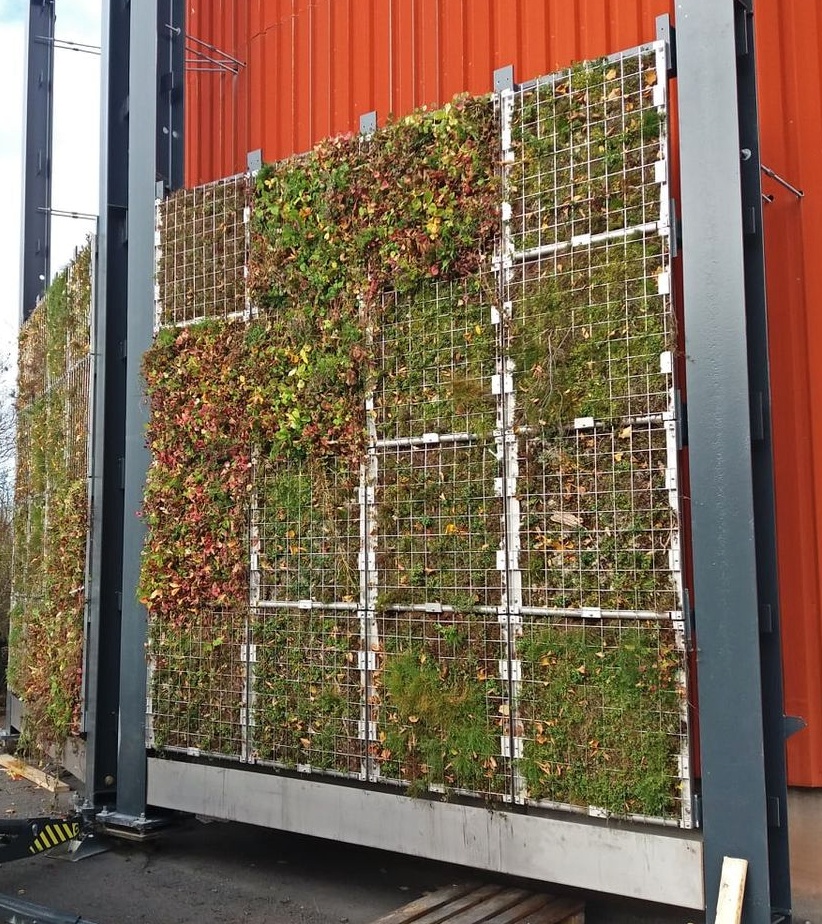 Potential for replication and upscaling
The wall vegetation has been selected from local species to support biodiversity and to ensure growth in the harsh Finnish climate. The city aims is to monitor the performance of the structure and noting the lessons learned from this demonstration, to enable the replication of this nature-based solution on other public and private buildings in the city.
Facebook
Twitter
Linkedin
Email