Biofilter in Hiedanranta
The biofilter in Hiedanranta is one of the UNaLab project's demonstrations of nature-based solutions. The biofilter was constructed in Hiedanranta to clean leachate from an old pulp mill landfill. Previously, the city has used sand filters to purify urban run-off in specific sites such as snow collection areas. The Hiedanranta NBS demonstration is a first attempt to purify leachate from a contaminated site in situ with more advanced filtering materials. This demonstration has advantageous up-scaling possibilities to many sites with water pollution issues in Europe and beyond.
THE PROCESS
The reasons behind the initiative include the city's intent to develop the qualitative management of storm water, the reports of disturbing odours from users of the area, and the interest of a biochar factory in Hiedanranta to promote the use of biochar in storm water management. The biofilter was co-created with several stakeholders. As a first step, large stakeholder workshops were organised in spring 2018 to create a vision, to ideate and to test nature-based solutions in Hiedanranta. Simultaneously, a cross-sectoral group of experts started to plan the implementation of the biofilter. The biofilter was constructed in the following autumn and has been operational since December 2018. The construction site posed a challenge due to the old industrial landfill.
TECHNICAL SPECIFICATIONS
The landfill leachate that contains 22 mg/L of total nitrogen and 1.5 mg/L total phosphorus is led through a filtration area which is approximately 100 m2 and 3 metres deep. The biofilter consists of different filtering layers and the novel filtering materials used are biochar, peat and Leca-gravel. Deep-rooted bushes and perennials native to the area were planted on top of the filter to retain water and nutrients. For the neutralisation of odours caused by the water from the landfill, an activated char filter was installed on the manhole cover.
At first, the biofilter seemed to function effectively in cleaning the water, but its insufficient capacity soon became evident. The inflow volume (over 80 m3/day) is higher than expected and the quantitative treatment capacity (about 40 m3/day) of the filter is lower than expected. The qualitative treatment results have also decreased. Works are underway to analyse and solve these problems. An initial theory is that the high nutrient content of the leachate has caused biofilm growth, which has blocked the filter. Fine fraction of the biochar might also have caused problems.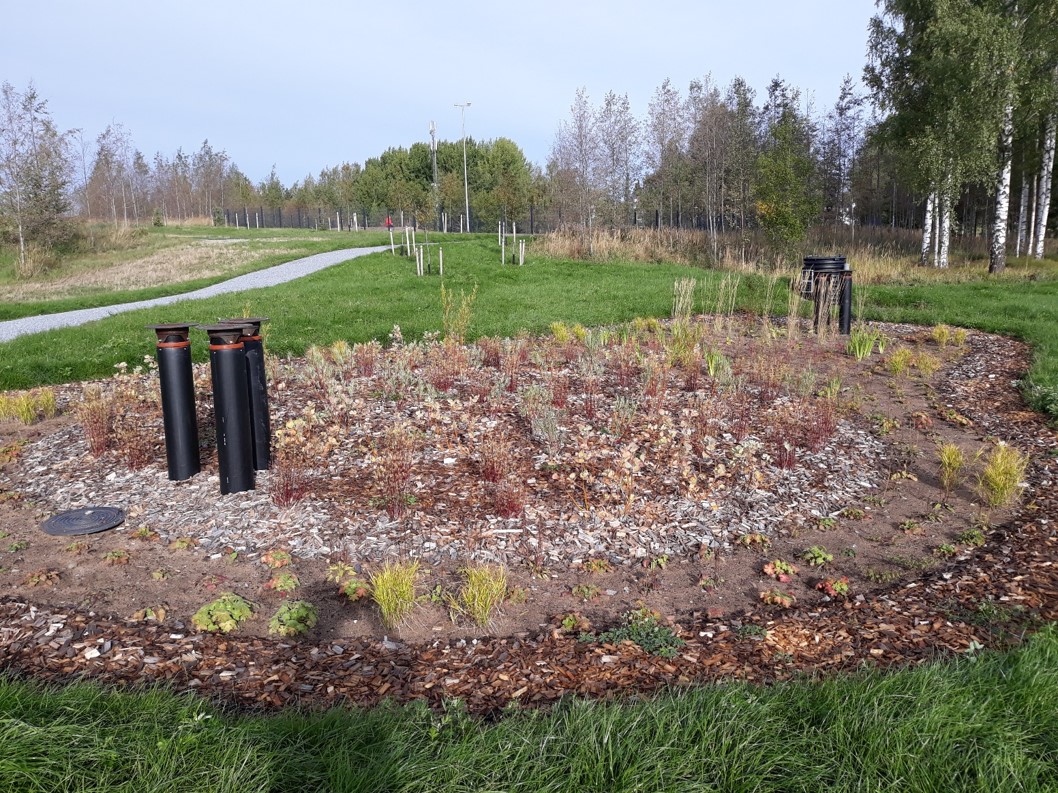 Facebook
Twitter
Linkedin
Email