Urban gardens
Two community gardens have been implemented by local housing cooperatives in the Vuores area. The City of Tampere financed these small-scale nature-based solutions through innovation vouchers - the first community garden received an innovation voucher worth €6500 and the second one received an innovation voucher worth €1000. The innovation vouchers were used to purchase the materials and transportation services needed for the construction work, as the gardens were planned and built by the residents themselves.
TECHNICAL SPECIFICATIONS
The first community garden funded by the innovation vouchers implemented trees and bushes, planter boxes for the residents to use, fruit trees and berry bushes, perennials and summer flowers, as well as areas to compost gardening waste and structures to harvest rain water for garden irrigation. The second community garden implemented fruit trees, berry bushes and urban gardening boxes.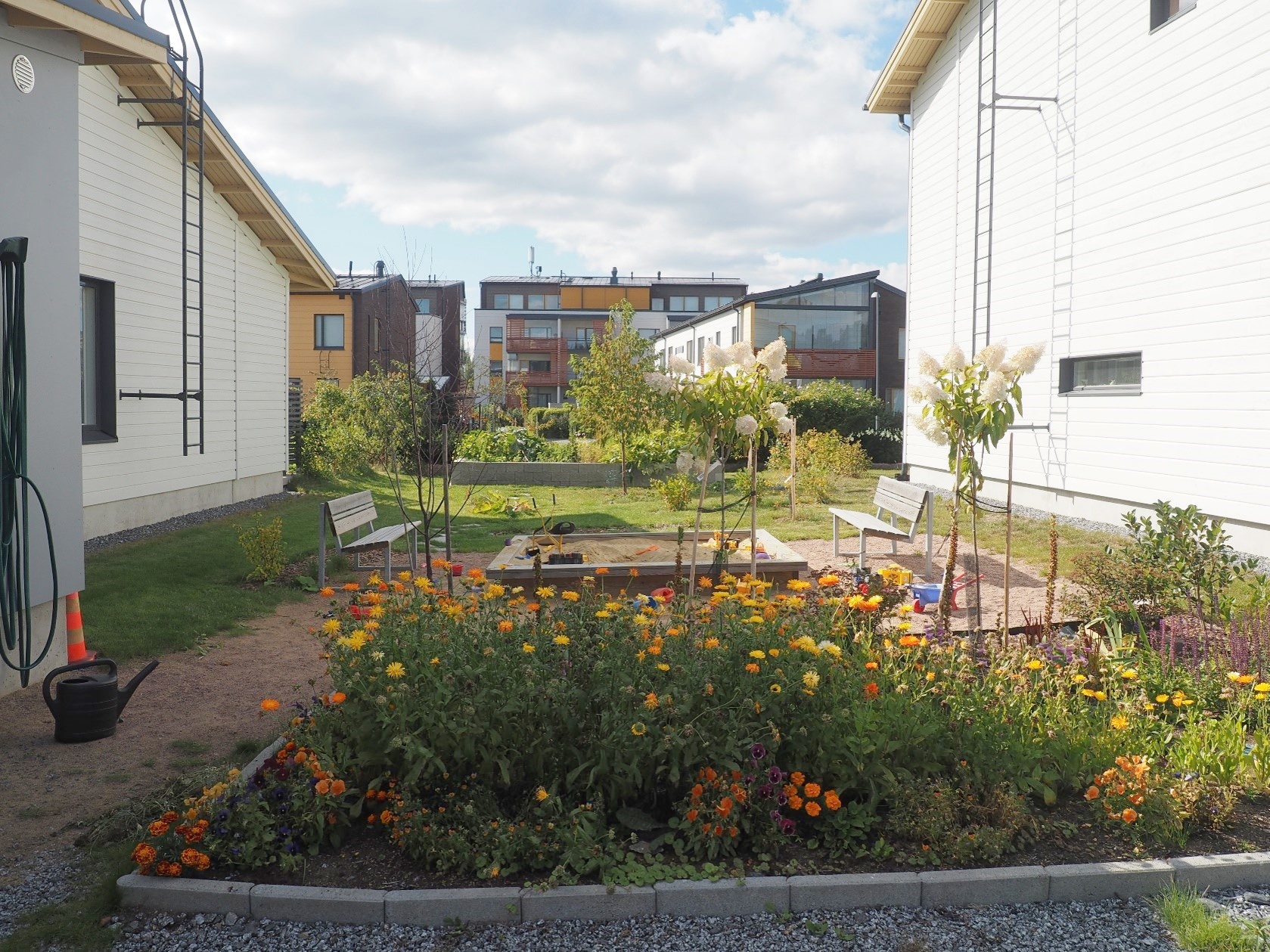 Potential for replication and upscaling
Innovation vouchers encourage residents and other city actors than the municipality to plan and implement novel nature-based solutions in the city. The implemented nature-based solutions were simple DIY-type solutions feasible for residents to create rather than engineered solutions. The involved housing cooperatives were very pleased with the end results and agreed that these collective projects have further enhanced the relations between the residents.
The living lab is located in a new area and, therefore, the city did not receive many applications for the innovation vouchers. In similar future initiatives it is recommended to target such funding towards older and more dense areas with less nature and resources. The inclusion of innovation vouchers in Tampere's NBS business model proved to be a successful approach to engage citizens to a greater extent in the city's NBS efforts. This solution can easily be replicated in other cities or contexts when small- or medium-scale nature-based solutions are implemented. 
Challenges Tackled
Knowledge and social capacity building
Participatory planning and governance
Social justice and cohesion
Facebook
Twitter
Linkedin
Email