Biofilter in Vuores
A biofilter was implemented in Vuores to treat urban runoff and runoff from a nearby dog park. The biofilter uses sand as filtering media and the vegetation planted on top of the filter includes plants that tolerate changing moisture conditions. The biofilter is equipped with the sign explaining the nature-based solution and its functions to interested residents.
TECHNICAL SPECIFICATIONS
The biofilter's catchment area is approximately 3,5 ha. The catchment area is a new development area mostly consisting of small detached apartment houses and streets. The biofilter also receives some surface runoff from the nearby dog park. The streets of the catchment area are drained with a conventional separated pipe drainage system. The houses are equipped with stormwater retention systems for rooftop and yard drainage.
The biofilter area is just under 300 m2. The filter's vegetation consists of a sown mixture of domestic wild alluvial meadow plants.
The biofilter has a total of 600 mm of filtrating layers, consisting of:
200 mm layer of growth medium

300 mm layer of loamy sand

100 mm layer of coarse sand
Underneath the filtration layers, is a perforated underdrain pipe. The biofilter has an overflow through an elevated manhole attached to a stormwater pipe. The underdrain is also connected to this system.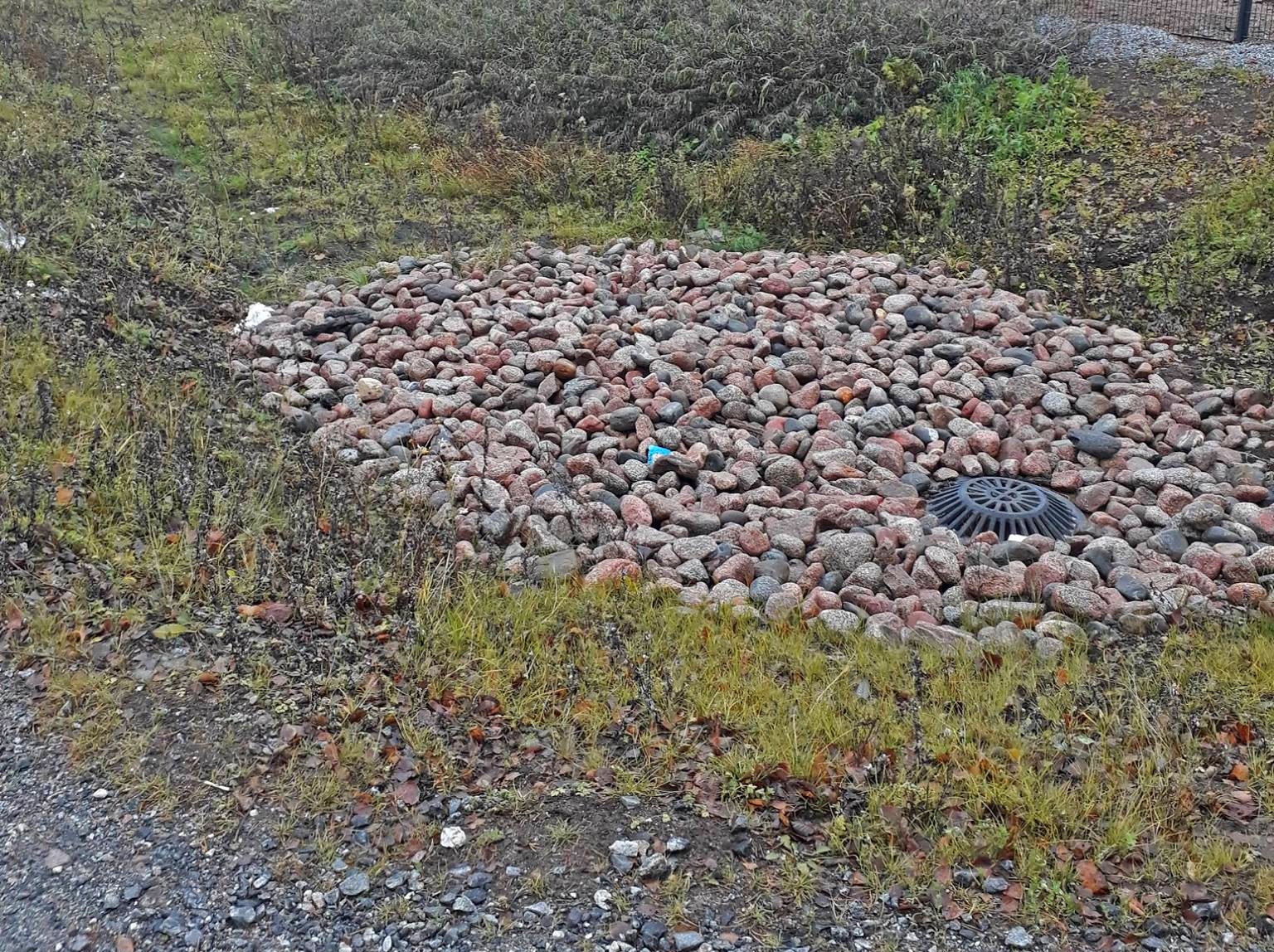 Potential for replication and upscaling
Results from Tampere and other studies show that, in many cases, sand-based biofiltration is a cost-efficient solution for storm water purification. As the performance of the biofilter is not solely dependent on the vegetation, the filters also function in the Nordic climate. A sand-based biofilter is effective in phosphorus, suspended solids and pathogen removal, but does not retain nitrogen. If the removal of nitrogen is important for watercourses downstream of the runoff site, biochar or expanded clay aggregate can instead be used as filtering material. Additionally, it should be possible to enhance the removal of nitrogen with the suitable selection of vegetation. 
There is an uncertainty related to biofilters' life cycle. This is dependent on at least the quality and quantity of water channelled into the filtration area and the filtering materials used. If the runoff contains plenty of suspended solids, it is recommended to build a retention pond for pre-treatment. This can prolong the life cycle of the biofilter. However, the phosphorus removal seem to decline after five years of use and needs to be enhanced in sand-based filters. With a large drainage basin and, therefore, large amounts of water, the capacity of the biofilter needs to be sufficient or, alternatively, multiple solutions need to be used. Biofiltration solutions can be replicated in areas where problems with the quality of storm water runoff have been identified. Tampere is planning another biofilter to Nekala, which will treat runoff from the industrial area, railway yard and Lempääläntie road. Storm water from these areas burden the Vihioja stream, as it occasionally contains hydrocarbons and glycol.
Challenges Tackled
Knowledge and social capacity building
Facebook
Twitter
Linkedin
Email