About Eindhoven
The City of Eindhoven is one of the five largest cities in The Netherlands with 230,000 inhabitants, while the Eindhoven region has more than 750,000 inhabitants. The city is one of the three economic engines of The Netherlands, delivering 14% of the national GDP. Eindhoven is the central, urbanised hub within the Brainport high-tech region in the south-east of the Netherlands, known as a centre of innovation, ICT, knowledge and design. 
Eindhoven is facing serious challenges due to rapid population growth. The population is estimated to increase from 220,000 in 2014 to 300,000 by 2030. Critical issues for the city, which are exacerbated by climate change, include flooding, urban heat stress, air pollution, and lower quality of life. The rapid urbanisation in recent years has also led to the disappearance of significant blue zones, which has had detrimental consequences to the urban environment and quality of life.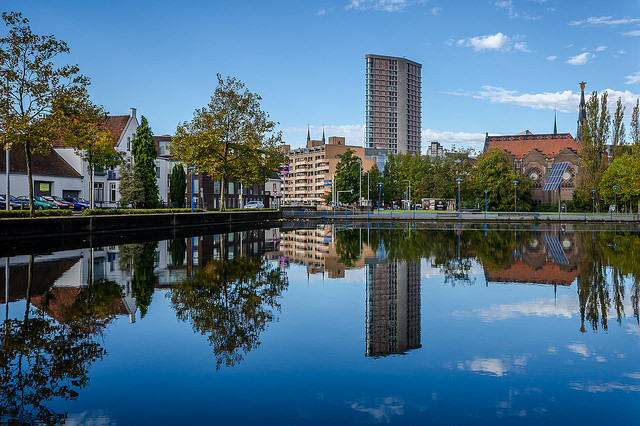 Eindhoven's NBS demonstrations
Several locations within the Eindhoven city centre with different characteristics constitute Eindhoven's demonstration areas for nature-based solutions. 
Eindhoven has implemented green spaces and elements in several streets within the city centre, which previously were completely paved. By using less pavement, less water is channelled into the sewer which reduces the risk of flooding. The vegetation also mitigates heat stress as it provides shade and increases water evaporation. The city has transformed the Vestdijk boulevard where traffic has been reduced to improve air quality and existing green areas have been revamped to enhance the liveability of the street. The Clausplein square has been refurbished and trees, shrubs and grasses have been planted on the previously stone-covered square. A green façade and green spaces have also been implemented in the Nutsbedrijven Regio Eindhoven area with the help of the citizens living in the area, and tree rings and other green elements have been planted on several streets in the city centre. A green façade was also implemented on a building on Oude Stadsgracht, whereas a green roof is being installed on the City Hall and green spaces are being created in the area surrounding the entrance of the building.
Water retention areas were implemented on the Vestdijk boulevard and on the Clausplein square as part of an integrated plan linking green and blue measures. Nature-based techniques were selected for the sites to purify and reduce stormwater runoff. The city will daylight the Grote Beek watercourse in the GGzE area, which will connect water bodies to enable fauna migration and increase the water surface area and the aeration capacity of the water body. This will lead to enhanced biodiversity and improved fauna migration.
Learn more about Tampere's NBS demonstrations
Our Nature-based Solutions
Our Nature-based Solutions