Clausplein
The previously stone-covered Clausplein square is located in a dense urban area in the city centre of Eindhoven and is greatly affected by extreme weather events. After reconstruction, the square has become a small park with an underground water retention basin. 
TECHNICAL SPECIFICATIONS
Rain- and stormwater draining from the square and from parts of the Witte Dame building is collected into 2 000m2 and 15cm high boxes on top of the parking. Capillary action makes the water available for the trees and plants on the square. Excess stormwater is later collected by the sewer, which by that time is empty again. This results in a decreased load for the sewers. Trees, shrubs, perennials and grasses have been planted to enhance evapotranspiration, which will aid in regulating the peak temperatures and flood peaks on the square. The pavement on the square was replaced with plant sections. The existing natural stone pebbles and lighting were partially reused, and a walking route was built across the square as well as a terrace space. To ensure the success of the capillary action, extra moisture-regulating clay granulate was mixed through the soil substrate.
POTENTIAL FOR REPLICATION AND UPSCALING
The design of the square has set a good example for future developments and projects. Although the area to some extent is unique, for example the presence of a parking garage below the square, parts of the system can be replicated.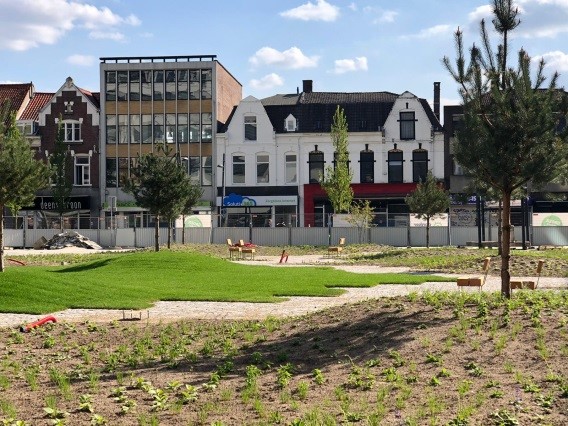 Challenges Tackled
Knowledge and social capacity building
New economic opportunities and green jobs
Participatory planning and governance
Facebook
Twitter
Linkedin
Email