Green Square - Clausplein
The Clausplein square, located in the city centre of Eindhoven, is refurbished as part of the UNaLab project. The stone-covered square is located in a dense urban area and is greatly affected by extreme weather events. During a heat wave, the square turns into an unpleasant hot place that citizens avoid. At night, the heat is released into the surrounding environment, making it difficult for the residents in that area to sleep. During rain showers, the excess water is discharged directly into the sewer, causing an overload for the system. This results in flooding of the nearby Emmasingel street. To reduce the risk of floods, an underground water retention system is installed. Trees and other plants were planted on the square to address the heat stress problem.
THE PROCESS
The new square has been designed together with the surrounding inhabitants and entrepreneurs as well as the local NGO 'Trefpunt Groen Eindhoven'. The presence of a private parking under the square also required a close coordination with the owner. The first construction plans were rejected due to their high costs. A new design was put together, requiring a smaller budget but with higher demands for the greening and water management. The Clausplein square will represent an example of the ways the city wants to address the greening of public spaces and water management issues in the future. The owner of the 'Witte Dame' building, located next to the square, cofinanced the works. The Ministry of Infrastructure and Water Management also made a contribution to the project.
TECHNICAL SPECIFICATIONS
Rain- and stormwater draining from the square and from parts of the 'Witte Dame' building is collected into 2 000 m2 and 15 cm high boxes on top of the parking. Capillary action makes the water available for the trees and plants on the square. Excess stormwater is later collected by the sewer, which by that time is empty again. This results in a decreased load for the sewers. Trees, shrubs, perennials and grasses were planted to enhance evapotranspiration, which will aid in regulating the peak temperatures and flood peaks on the square. The pavement on the square was replaced with plant sections. The existing natural stone pebbles and lighting were partially reused, and a walking route was built across the square as well as a terrace space. To ensure the success of the capillary action, extra moisture-regulating clay granulate was mixed through the soil substrate.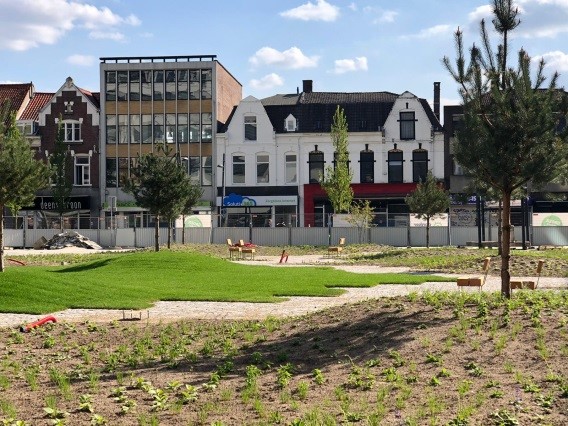 Nature-based Solutions
Underground water storage
NBS Benefits
Improved water storage capacity
Facebook
Twitter
Linkedin
Email