Gabions
The gabions implemented in the Gavoglio park minimise the impact of the landslide under via Ventotene and reduce the heat stress created by the large concrete wall. The gabions are steel cages filled with debris and rocks that allow to create retaining walls by reusing construction site debris and sustainable materials. Some gabions are completed with vegetation to increase biodiversity and reduce heat stress, while others are completed with a stone top to create benches for public spaces.
TECHNICAL SPECIFICATIONS
Gabions can be assembled, filled and vibrated in site with debris from building demolitions, adequately shattered and sifted. The filling must be done gradually, by 25-30 cm layers. Geotextile must be placed under the gabions for a better loading distribution, and behind them for draining and soil retaining. The finest sifted part is used to make a base filling. Adjacent units are joined to one another by lacing wires.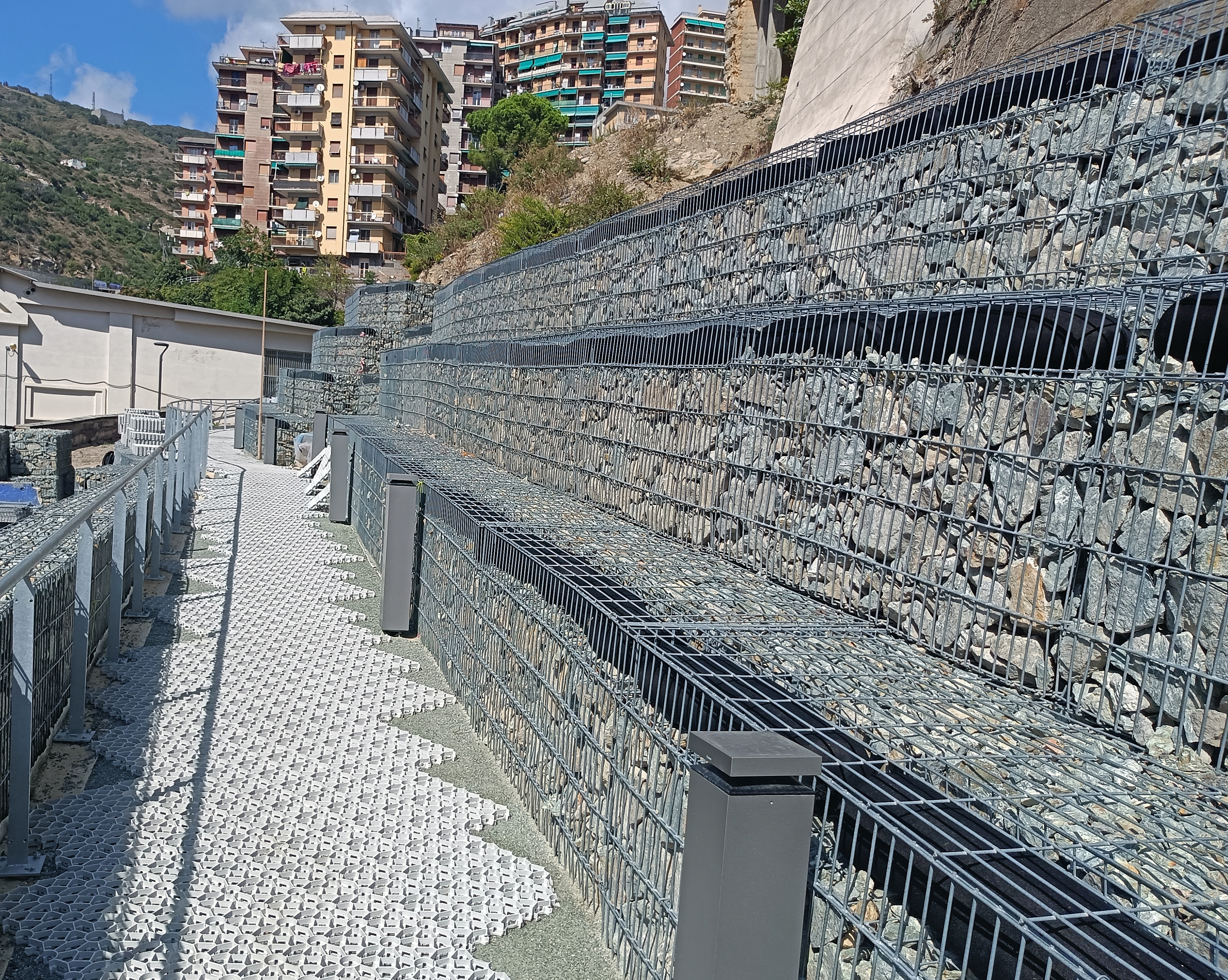 Potential for replication and upscaling
Liguria is characterised by the use of dry-stone walls for the construction of the typical hill terraces, which have a very high construction cost. The 'gabion' technique enables the construction of structures similar to those of dry-stone walls, but within a shorter timeframe and with much lower costs. Metal gabions are cubic and modular structures that typically are made of electro-welded or double-twisted mesh with zinc, zinc/aluminium or zinc and PVC cover. The meshes can be square or rectangular, while the metal wires have a diameter that usually varies between 4-5 mm. During the installation phase, the gabions are filled with suitable stones.
Among the fundamental characteristics of gabions, we find:
- Flexibility as well as drainage capacity to minimise the risk of landslides in silt-clayey and water-rich soils, allowing the flow of water while containing the soil.
- Solidity and resistance. The electro-welded mesh makes them suitable for forming high-height and self-supporting structures. Furthermore, they do not undergo deformations, thus reducing the problems caused by uneven grounds and natural walls.
- They have a high capacity to absorb mechanical stress.
Gabions form flexible, permeable, monolithic structures that can be filled with construction debris or on-site rocks and stones. They can easily be vegetated to blend into the natural environment. Gabions work as a gravity wall and have larger dimensions than concrete walls.
Challenges Tackled
Knowledge and social capacity building
Natural and climate hazards
New economic opportunities and green jobs
Facebook
Twitter
Linkedin
Email