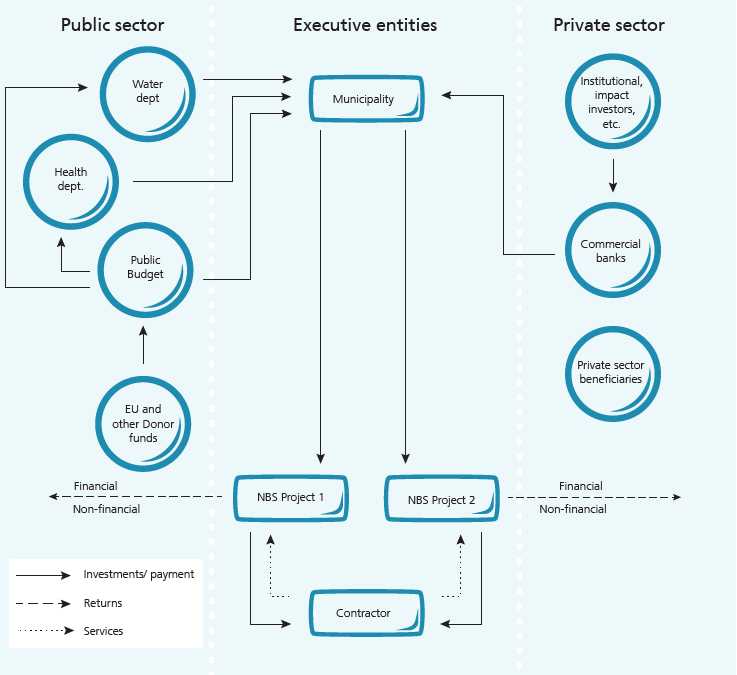 Innovative municipal financing approaches
Innovative municipal finance approaches describe the financing strategy where a municipality is primarily responsible for financing NBS, however, a range of alternative options of raising funds for NBS projects and programmes are explored including cross-departmental funding, institutional investors, external funding, etc.
Innovation in municipal financing practices has the potential to expand the available capital base and to allocate municipal budgets towards funding and financing NBS interventions in the city. Financing instruments such as green bonds, fostering cross-departmental financing of NBS and securing funds from external sources can be combined. Additionally, local governments might expand the pool of available funding for NBS by cost-sharing across the budgets of different municipal departments or by participating in EU or other donor-funded programmes.
ADVANTAGES & DISADVANTAGES
Engaging in innovative financial borrowing schemes, such as green bonds, allows the municipalities to tap into much wider investor base that typically includes institutional investors, such as pension funds and insurance companies, as well as banks and investment funds

In case of secured additional capital, the municipalities can support NBS projects that would experience difficulties in accessing capital from other sources

In some cases, the regulatory frameworks might restrict the extent to which municipalities can engage in such initiatives

Cross-departmental funding might prove challenging in case the larger political objectives are not aligned within the municipality
RISKS
• The small number of viable projects or insufficient scale of the projects to demonstrate impact and thus attract investors and/or qualify for external funding programmes.
• The reputational risk for green bonds issuers, i.e. when bonds labelled as "green" do not fulfill the "green" criteria, remain high and can have an impact on investors' trust.
• Uncertainties related to the technical and operational challenges of the interventions and the extent and nature of the delivered benefits.
• High transaction costs of engaging with debt-based financial instruments and/or promoting the partnerships within (cross-departmental) and outside (between cities, with the private sector, etc.) might make more traditional sources of capital more attractive.
• Political risk. The political priorities of the local or national government might shift and municipal finance schemes may fall short of the resources and partnerships needed for their operation.
Related financing options
Facebook
Twitter
Linkedin
Email