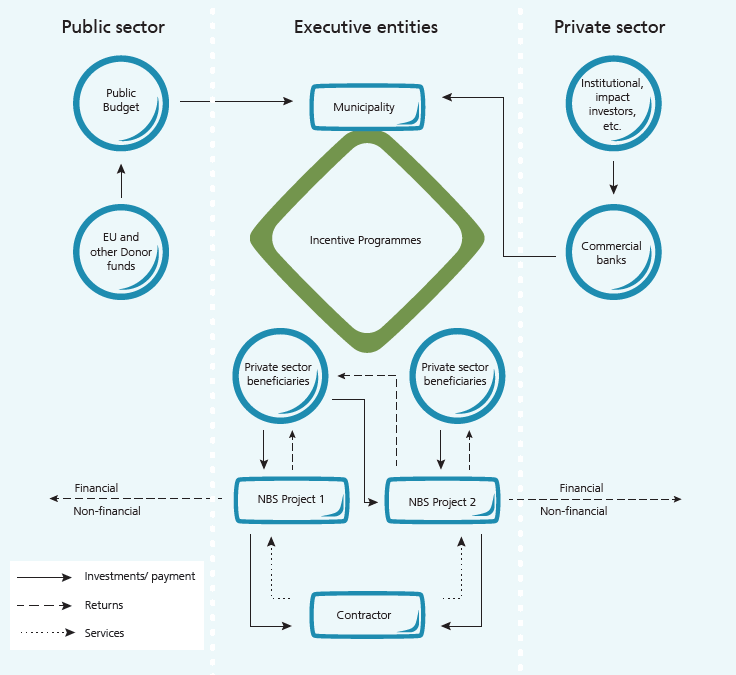 Incentive programmes
In the Incentive programmes, the municipal administration is mostly responsible for creating or enabling a regulatory framework in which private actors can develop and implement NBS projects. The framework establishes the policy´s objectives, goals and guidelines. The costs related to the design, implementation and, when necessary, maintenance and operation are borne by private entities. The use of soft regulations tends to be the norm in such frameworks, with the use of economic and informational incentives.
Incentive programmes might be targeted at various private entities ranging from for-profit to non-profit entities, property owners and local communities. As multi-stakeholder governance provides an opportunity to private companies to shape policy arenas according to their preferences, policymakers should have a clear understanding of private actor's interests to support the design of adequate positive and negative incentives that align all actors towards common objectives. For the local communities, adequate regulatory frameworks need to be designed to allow for the bottom-up initiatives to happen.
ADVANTAGES & DISADVANTAGES
• Well-designed incentives encourage private entities to implement infrastructure projects, sparing the city from costs.
• When appropriately designed, incentives provide participating actors with flexibility in terms of financing, schedules, designs, technologies used, location, which tends to improve the quality of results in an efficient manner.
• As voluntary policies resort mostly to soft regulations, they can be designed as modular frameworks, which could encourage engagement private stakeholders to act without imposing additional costs on companies that cannot afford it.
• Participation of private entities tends to promote cooperation and can provide a more effective means for public participation in planning decisions.
• Policymakers should carefully consider using incentive programmes to deal with urban issues that present significant risks for residents (e.g. floods, fires, landslides, and water and air contamination) and are considered to be urgent by stakeholders.
RISKS
• Risk of not accomplishing results. Reasons for low engagement might include inadequate sets of incentives, lack of political trust among actors, unfavourable economic circumstances, and lack of appropriate technical capacity to comply with NBS-related requirements.
• "Leadership delusion", i.e. a false perception that measures taken by the institutions involved in these policies – municipal administrations and private participants – are having significant impacts, even when objective results show otherwise.
• The quality of results. Policymakers should always have in mind that there is no necessary connection between the involvement of the private sector and the quality and sustainability of the results.
Related financing options
Facebook
Twitter
Linkedin
Email